When there is a cry, there must be a regret. Even for the kids..
---------------------
On another important note :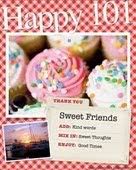 I'm honored and really happy to accept these awards.. Thank you Dear Renee and Arabesque..
It say that I'll have to pass these awards to other 12 great blogs, I feel that I'm not a person who capable enough to give others an award yet. But I'll share this honor and great respect to appreciate all of your hard works in photography and bloging. I'll dedicate this honor to :
-
City Daily Photo
-
Bandung Daily Photo
-
Sumedang Daily Photo
-
Bogor Daily Photo
-
Tallahassee Daily Photo
-
This Is Bohol...
-
Tokorozawa Daily Photo
-
Life in Manila.... and elsewhere
-
Beth Niquette Fine Art
-
Worth a Thousands Words
-
Brookville Daily Photo
-
Eagan Daily Photo
Thank you, and have a nice day to all of you...